The Plan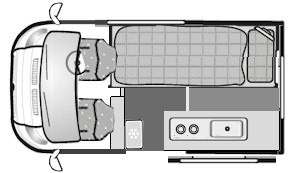 From surfing the internet, the experience of Tin Tent 1, having had a professionally converted Mazda Bongo, and lots and lots of sitting in the van contemplating, I came up with the basic plan of what I wanted from the conversion. There were a few design criteria I wanted to achieve, but other than that it was a blank canvas.
Here are the basics that I wanted to cover...
Under 2m high. I found that a lot of car parks have a height restriction of about 2m. The Carry comes in at about 1.8m, so I can park more or less where I like. The van can even be garaged.
Bed already ready. I found that in a cramped van, a rock and roll bed can be a bit of a pain. It's fine when the van is empty, but when the van is full of your bags, balls and bedding - and it's raining outside, it becomes quite a juggling act. I wanted to be able to nip straight in the back and have a snooze without the hassle, so a 6ft seat/simple bed needed to be built into the design.
To meet the DVLA conversion specifications. At the time, the DVLA had a list of specifications that needed to be fulfilled to be able to class the van as a motor caravan. An official stamp of approval so to speak. Between starting the conversion and finishing it, the DVLA changed their minds and decided not to allow conversions to be re-classified.
To meet the insurance company's specification for the van to be registered as a camper van. (Actually easier to conform to that the DVLA spec).
To be a day van for 2, and a camper for 1 - if there would be 2 of us, then I would take a tent along as well - easier to put up and down when there are 2 of you!
Cheap to run and insure. My Carry does about 42-45mph depending on how I drive. This helps keep the running-costs down.
So there it is - a basic plan. The Carry's rear is 6' near as not from driver's seat to the back door. That's the bed sorted! There are several designs about there whereby one side of the carry is turned into a bench bed, and the other side has some sort of kitchen/cupboard arrangement. Other designs have an "end kitchen", but that would mean that the bed would have to include the seats in some way - which is possible, but again, created a whole load of fiddling about come snooze time.
Sizes, heights and spaces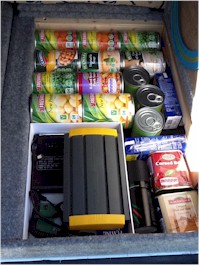 By using old cardboard boxes, I decided that a good height for the units would bring them up to the bottom of the rear (and side) windows. Part of the plan was not to reduce visibility through the windows, so there was lots of sitting in the driver's seat checking the view wasn't obscured. I did ponder having a couple of high little cupboards above the sink, but they eventually went by the wayside. Support for those was going to be one vertical stainless small pillar at the front, only the pillar would show between the rear-view mirror and the rear window.
The next critical height was the height of the seat/bed unit. Too low, and there would be very limited storage underneath. Too high and I wouldn't be able to sit comfortably without being hunched-over. This is something you have to weigh-up, and it took quite a while to decide what was best for me. An old milk-crate, caravan step, cool box, stacks of chipboard were all used for this. I think I have it about as good is it will get for me. Enough room to store tins of food at the very back, and a comfortable sitting position.