The Van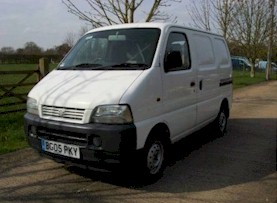 The base or donor van for the conversion was a 2005 Suzuki 1.3 Carry Van. Bought from RightVan, the van used to be a maintenance van for a University (I think). Low mileage and in reasonable condition for it's age, it was great value for money. As the van is my only vehicle, I needed something reliable and low mileage as I plan to have it for about 5 years, so I will put quite a bit of mileage onto it. Don't worry too much about dinks and scratches inside the van - most of these will be either hidden by furniture or the lining material. Mine had its fair share.
Specifications
Suzuki Carry Panel Van 2005
1.3L 77bhp Petrol Engine
5 Speed Manual Gearbox
Payload 577kg
Driver Air Bag, Central Locking
H:1800mm, W:1474mm, L:3675mm
42mpg - depending on driving style
The van was delivered to my door (for a price) and was already lined with ply wood. Some bits I re-used, some bits I removed. See the photo gallery below for photos as displayed on the website. The advert was on e-bay although it was a van dealer rather than a private sale. The photos show all the ply panels in place.
The load-bay of the Carry is more or less 6 feet long - depending on the position of the driver/passenger seats on their sliders. If the seats are moved to the front of their rails, and the seat backs are tilted forward, there is a gain of a useful space - possibly up to a foot. Doesn't sound much, but with a van the size of the Carry, it makes a useful additional space. For example, with the passenger seat in the forward position, there is enough room to store my cool box behind it - out of the way of the doorway.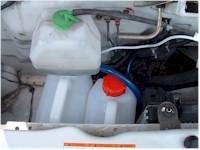 As the Carry is mid-engined (the engine is under the seats), the space under the bonnet is almost empty (except for the radiator, brake reservoir, washer bottle, jack etc), so don't forget you can utilise that space for storage. I use the space to hold the 10L water tank (see water system page), but it could also be used for the leisure battery if a shelf is added.
The box-like design helps fill the van when it comes to units, although the Carry does taper considerably towards the roof. Also when we were designing the furniture, we found the van tapers in more or less every direction! Available widths in the middle of the van are not the same as at the back due to the shapes of the structural pillars. We found the best idea was was to measure and draw a centre line down the middle of the floor. We based measurements from that as we preferred to have the units line-up down the centre. The width differences can then be absorbed into the design of the units...
Gallery: 1
Click on an image to open the image gallery
---