The Windows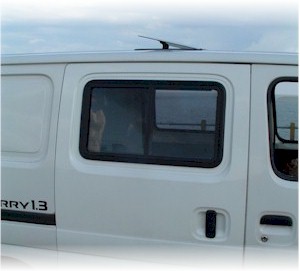 More photos of the windows can be seen in the photo gallery below.
Window Options
I had the windows in the van installed by Car Glass and Trim in Ipswich.
The insurance company and the DVLA required that there was at least one side window. I decided on the following options.
Passenger-side door - single non-opening rubber-edged window
Driver-side door-split opening sliding window
Sunroof
The sliding, opening window provides extra ventilation in the summer. Although the doors can be left ajar, the opening window is high enough to allow ventilation, yet stop some of the reptiles getting in at night. The frames are a standard size for the carry and were ordered-in by the glass company.
The Sunroof
The sunroof is positioned above the side doors. This is the main seating position and also provides ventilation for steam and cooking smells. The glass unit has 2 main opening positions, and can also be completely removed. I am very pleased with having the sunroof, although I often forget to close it and have come back to find the rain has got in!
To do list!
One thing I still need to do is create fly screens and silver screens for the windows, but especially the sun-roof. I have some rough silver screen for the windows. My plan is to cover the inside of the silver screen with the curtain material, giving a cosier look - rather than the inside of a space-ship!
Gallery: 3
Click on an image to open the image gallery
---
Gallery: 3
Click on an image to open the image gallery
---