Final Layout?!
Article #23 - 26/10/2021 23:24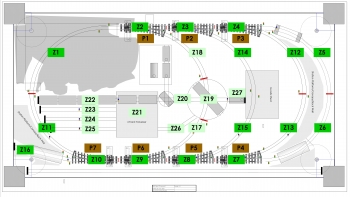 Well, I think this is it. The final layout/track plan for the layout.
Basically the same design - mountain in the North West corner (single track working), main line passing 2 stations (West & East).
A passing loop going through the goods shed area.
A passing loop to feed the locomotive works leading to the turn-table and the traverser.
The original South East dead-end station terminus and the North Eastern engine shed should now connect together - hidden behind the East Station.
The very front (South) shuttle line will still run with a randomly timed shuttle service between stations.
---